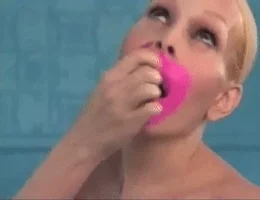 If you're anything like me, you know absolutely nothing about makeup! So, the inaugural Makeup and Mimosa event hosted by Ms. J'Renea, of Pretty Girlz Inc. was right on time.
I do not wear makeup often-I can literally count on one hand how many times I've had a full face done. However, I would like to enhance my features every once in a while without breaking the bank. Like anything else that I feel is overpriced, I'd rather learn how to do it myself. And after attending this event, I'm pretty much a pro. This is not debatable lol.
The makeup artist, Amari, explained that our brows are not supposed to be identical but more like sisters. Well, after I used a brow pencil for the first time, mine looked like distant cousins. A class on makeup was long overdue.
I thought that I would just pop up and learn a few techniques, but I felt super fancy as soon as I walked through the door! Like, I was looking for the cameras, because surely the RHOA crew were standing by. The decor was simply amazing. So much so, I solicited J'Renea's help to plan my daughter's tenth birthday party. Clearly, this is her gift!
My ONLY regret is not sharing the event with more women to benefit from this day of pampering and self care.
Amari was super knowledgeable and extremely patient. Again, I know NOTHING about makeup. So, I had a lot of questions. She not only walked us through each technique and explained everything, but she demonstrated on a model as well. Added bonus: Amari provided full deets on her favorite products. I loved that. She is so secure in her craft, that she was willing to share information without fear of losing a future client.
You ever went to a hair salon and the stylist won't tell you how to care for your hair in between visits? Nah, me neither. Mandatory spiritual lesson: This young lady understands that even if she recommends the exact same products that she uses, we are not the expert. This is HER gift and while we can try to imitate certain techniques, we can't duplicate the anointing.
There was a wide array of attendees present. From women without brows to women with bushy, unkept brows (ahem, me). We even received a complimentary shape-up. Everyone came in with their differences, but we all left with the same accomplished goal. Brows and lashes on FLEEK! Is that still a thing? :-/
Another thing I loved about the event is how everyone mingled together well. No drama, no cattiness, no shade, no cliques. It felt like we were all friends for years although some of us just met for the first time that day.
I thought I was attending an event to learn skills about makeup, but I was reminded of the importance of sisterhood and selfcare. I absolutely love my family, but there is something about spending time with the ladies. It's easy to lose your identity between being a wife, mom and professional. But after last week, I felt a sense of rebirth and renewed purpose. What a way to kick off Women's History Month!!!
If this is any inclination of how how J'Renea/Pretty Girlz Inc. future events will be, I'm not missing out on any and I suggest you don't either!